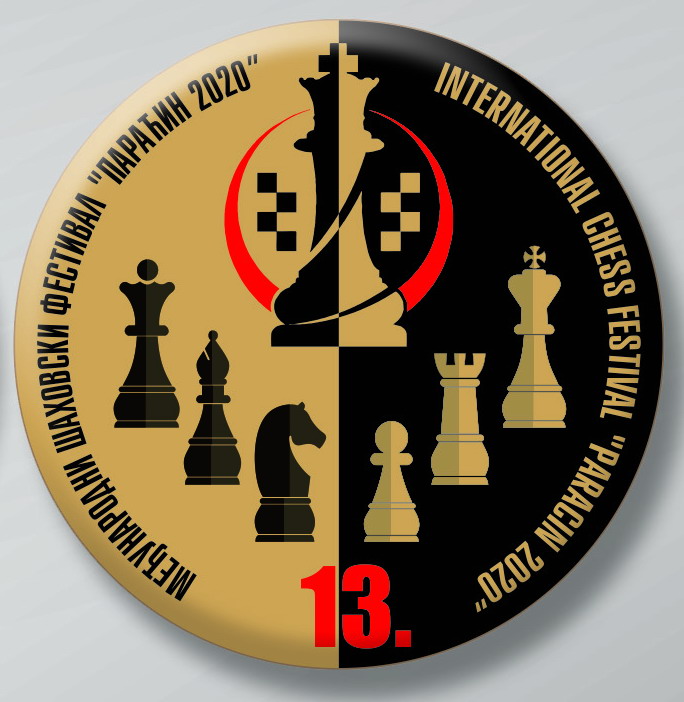 July 3rd -10th 2020

13th International Chess Festival «Paracin 2020»
According to the fact that measures against COVID-19 have been drastically eased in Serbia and that the situation with a pandemic is improving at the daily level, we are ready to keep tradition and provide to you worldwide well-known chess festival in Paracin, although due to crisis we were forced to reduce prize fund and number of events. Health protection measures will be applied according to instructions from Serbian government institutions which will be valid during festival duration.
Festival organizers are Youth Chess Club «Paracin» and Tourism Organization of Paracin Municipality and this year there will be 3 events as follows:
INTERNATIONAL OPEN «PARACIN 2020», July 3rd – 10th 2020.
OPEN tournament for all players regardless to title and rating. FIDE Swiss, 9 rounds. Time control is 90 minutes + 30 seconds. Tournament is valid for FIDE rating.
Total prize fund: 350.000 RSD (app. 3.000 €)
YOUTH OPEN «PARACIN 2020», July 4th – 10th 2020.
OPEN tournament for players rated lower and equal to 1400 and born in 2004. and younger.
FIDE Swiss, 11 rounds. The tournament is not valid for FIDE rating. Time control is 60 minutes per player.
Total prize fund: 20.000 RSD (app. 170 €) + trophies, medals and surprise prizes.
16th MEMORIAL RAPID TOURNAMENT «UROŠ DINIĆ», July 5th, 2020.
Rapid tournament, FIDE Swiss, 9 rounds. 10 minutes + 5 seconds per player. Tournament starts at 10.00 am.
Total prize fund: 50.000 RSD (app. 425 €)
Information and Reservation:
For all further information about Chess Festival and for accommodation reservation, please contact the organizer:
Saša Jevtic +381 63 439497 or via e-mail info@paracinchess.rs or sasajevtic@yahoo.com
After 13th International Chess Festival «Paracin 2020» in a period of July 11th – 17th we will, depending on interest, organize 3 ROUND ROBIN TOURNAMENTS «ORBIS-3 2020» (GM, IM, and WIM sections)
Each tournament will have 10 players and 9 rounds will be played. Time control is 90 min. for 40 moves + 30 min. to the end of the game with 30 sec. increment.
The drawing of lots for each event will be held on July 10th at 8:00 pm.
Paracin is a worldwide well-known chess destination and we invite you to visit us in July 2020 to play chess, have fun, enjoy your summer in Serbia and as soon as possible forget about dark pandemic period which is fortunately behind us. We have started to accept entries, so plan your vacations, book your tickets and start packing!
We wish you a nice and memorable stay in Serbia as well as success in chess.
Saša Jevtić
International Organizer, FIDE Trainer,
International Arbiter & FIDE Master
+ 381 63 439497 Viber, WhatsApp
International OPEN «Paracin 2020» July 3rd-10th
Youth OPEN «Paracin 2020» July 4th-10th