Women's no. 1 Hou Yifan will be the first female player to participate in the full Meltwater Champions Chess Tour when the Goldmoney Asian Rapid, the 7th stage on the $1.6 million tour, starts at 13:00 CEST on Saturday June 26th.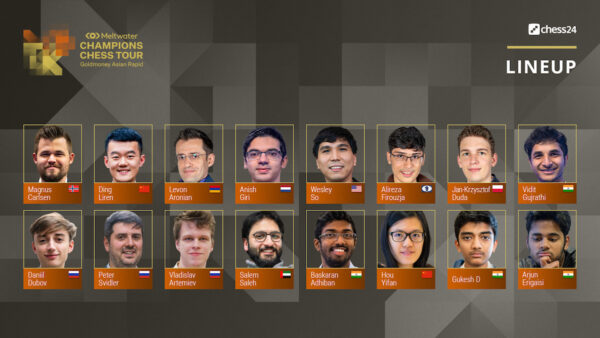 The earlier starting time should boost the chances of the players based in Asia, with no less than four Indian grandmasters taking part, including 15-year-old Gelfand Challenge winner Gukesh and 17-year-old Indian Qualifier winner Arjun Erigaisi. There are also tour debuts for Adhiban, Vladislav Artemiev and Salem Saleh.
What's the format?
The games will be played online on chess24 at a time control of 15 minutes per player for all moves, plus a 10-second increment for each move made. The 3-day Preliminary stage sees all players play each once over 15 rounds, with the bottom 8 eliminated.
The remaining 8 players then go forward to a knockout, where each 2-day encounter consists of two 4-game matches. If the match score is tied on the second day we get two 5+3 blitz games, and if still tied there's a final Armageddon game, where White has 5 minutes to Black's 4, but a draw counts as a win for Black.
When does it start?
The action kicks off on June 26th at 13:00 CEST (16:30 IST), with the earlier than usual start time meaning that the players in Asia — and as many as 9 will play from the Asian continent — don't need to stay up until the very early hours of the morning. It will, however, mean a bright and early 6am start for US Champion Wesley So!
Views All Time
365
Views Today
1