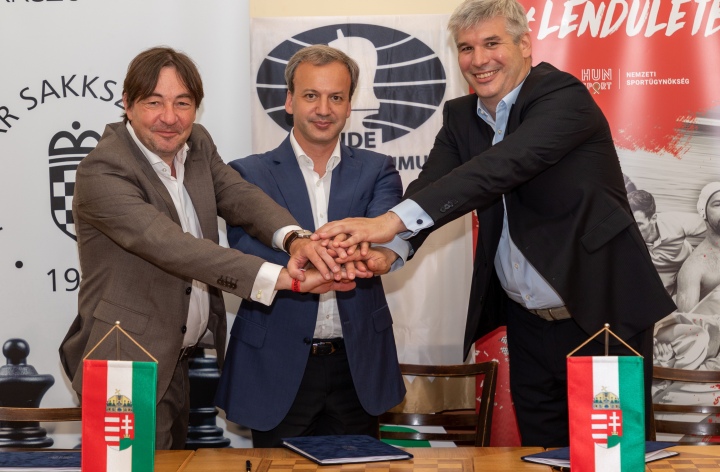 Budapest Chess Olympiad 2024: The contract is signed
The contract for the Budapest Chess Olympiad 2024 is now officially signed.
On Wednesday, June 23, FIDE President Arkady Dvorkovich visited the Hungarian capital Budapest to meet with the organizers of the Chess Olympiad 2024. The signing of the contract for the most important team chess competition was the high point of the day. FIDE President Arkady Dvorkovich, Laszlo Szabo, President of Hungarian Chess Federation, and Attila Mihok, Executive Director of the NSÜ — National Sports Agency of Hungary put their signatures under the document. Evgeny Stanislavov, Ambassador Extraordinary and Plenipotentiary of the Russian Federation in Hungary, was also present.
In his speech, FIDE President noted that the pandemic created obstacles for organizing sports events and chess tournaments in particular, but he firmly believes that there is enough time to organize the 2024 Olympiad on the highest level. «Hungary has incredible chess traditions, with great players like Lajos Portisch, Zoltán Ribli, Polgar sisters, and many others, a very active chess federation, and the support of national authorities and a beautiful city of Budapest. That is what makes it a perfect place for this most important team event,» said Arkady Dvorkovich.
The Chess Olympiad 2024 is scheduled to run from September 10-23 at the renovated Hungexpo Exhibition and Conference Centre, with a total budget of 16,6 million euros. Political authorities, chess legends, and prominent members of the Hungarian Olympic movement and the sports administration have expressed their unconditional support to the event.