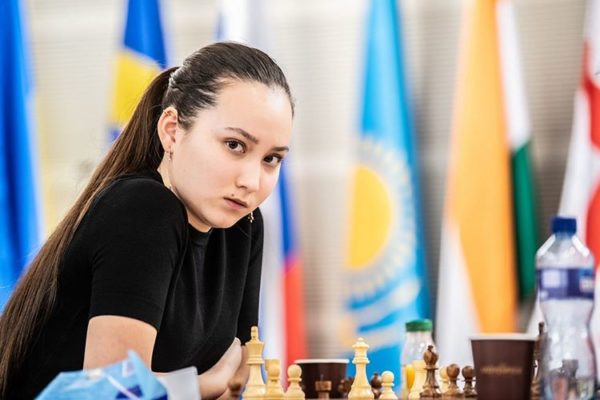 15-17 May 2020

Казахстан представляет в супер онлайн турнире Жансая Абдумалик !
World Blitz Chess Champions Magnus Carlsen and Kateryna Lagno are the top seeds for the FIDE Online Steinitz Memorial, a 20-player blitz event taking place over the weekend of 15-17 May in memory of the 1st official World Chess Champion, Wilhelm Steinitz. The two 10-player double round-robin tournaments have a combined prize fund of 30,000 euros. All games will be played on chess24 and broadcast live with commentary in multiple languages.
FIDE Online Steinitz Memorial Open
The FIDE Online Steinitz Memorial consists of two 10-player tournaments, one open and one for women. Each player will play each other twice over 18 rounds of blitz where the players have 3 minutes for all moves and a 2-second increment after every move.
If there's a tie for 1st place after 18 rounds, the two players with the best tiebreaks will play a single Armageddon game, where White has 5 minutes to Black's 4 but a draw means that the player with Black wins the tournament.
The total prize fund is 30,000 euros, with 18,000 for the open section (4,500 for 1st) and 12,000 for the women's section (3,000 for 1st). One innovation is that half of the prize money is paid out on a game-by-game basis, with every point in the open section worth an extra 100 euros (70 euros in the women's section), meaning there's something to play for in every game.
The schedule is as follows, with all times CEST:
Friday, May 15th
Rounds 1-6
Women: 15:00 – 18:15
Rounds 1-6 Open:
18:30 – 21:30
Saturday, May 16th
Rounds
7-12 Women: 15:00 — 18:15
Rounds
7-12 Open: 18:30 – 21:30
Sunday, May 17th
Rounds
13-18 Women: 15:00 – 18:15
Rounds
13-18 Open: 18:30 – 21:30
Photo: David Llada
https://chess24.com/en/read/news/carlsen-and-lagno-star-in-steinitz-memorial