Katara International Chess Tournament 2020
Online Bullet Tournament
Qualifiers joining Magnus Carlsen in the finals:
GM Haik Martirosyan (ARM-777777)
GM Andrew Tang (penguingim1)
GM David Paravyan (drop_stone)
GM Raunak Sadhwani (Raunaksadhwani2005)
GM Rasmus Svane (sumsar42)
GM Alireza Firouzja (alireza2003)
GM Shant Sargsyan (Shant7777777)
GM Rauf Mamedov (muisback)
GM Arjun Erigaisi (Inventing_Invention)
IM Thomas Beerdsen (MeneerMandje)
GM Daniel Naroditsky (RebeccaHarris)
GM Aleksei Sarana (may6enexttime)
IM Vincent Rothuis (opperwezen)
IM Yoseph Theolifus Taher (yoseph2013)
GM NeverEnough (4th placed GM Grey_parrot declined to participate in the knockout)
Katara qualifiers over, who made it through?
The Qatari Chess Association and Lichess are proud to announce the Katara International Bullet Tournament featuring World Champion Magnus Carlsen. Fresh off winning the Magnus Carlsen Chess Tour, Carlsen will try to keep the momentum going on Lichess in an event with a $10,000 prize fund. Announcing the Katara International Bullet Tournament with World Champion Magnus Carlsen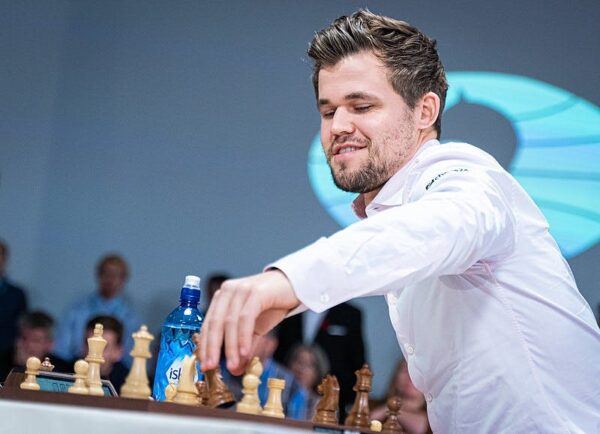 «Chess is a game which connects us, unites us, makes us feel like one family, one community, one planet.»
QCA in collaboration with the Cultural Village Foundation — Katara, invites you and all chess enthusiasts
to join and participate in the "Katara International Chess Tournament 2020" Online Bullet Tournament.
Prizes
Total Prize Fund: 10,000 $
Final Winner 3000 $
*Qualifying Stage – 90' Arena sessions
— The qualifying stage consists in three independent Arena Bullet qualifying sessions of 90 min each.
— Top 5 players from each qualifying session qualify for the Katara Bullet Finals.
— Players are free to join one or several Katara Arena (A, B or C) to qualify for the Finals.
— Players may play in several Katara Arenas (A, B and/or C) if they wish so.
— In case a player reaches the top 5 in 2 or more qualifying sessions, the session where he reached the highest final
ranking will be kept and his other results will be disregarded.
— To register to any of the qualifying sessions, a participant must have played at least 15 rated games on lichess.
— Every participant in any Arena must fill up the following online form:
https://docs.google.com/forms/d/1p32xVH2B_S9JOo8ViYmBS9G9tUWhgqAkhXrDeTZIFPg/edit
Bullet Arena
— Bullet Arena «A» link: https://lichess.org/tournament/BHvlUk3t
— Bullet Arena «B» link: https://lichess.org/tournament/RFzaAysX
— Bullet Arena «C» link: https://lichess.org/tournament/xhZoFmQ7
*Katara Online Bullet Finals
— The Katara Online Bullet Finals consist in a 16-player knock out session.
— Every one-to-one Match shall be played in 12 games of Bullet Chess.
— The Match is won once a player scores 6.5 points. In case of a draw score 6-6, players shall play up to the first win.