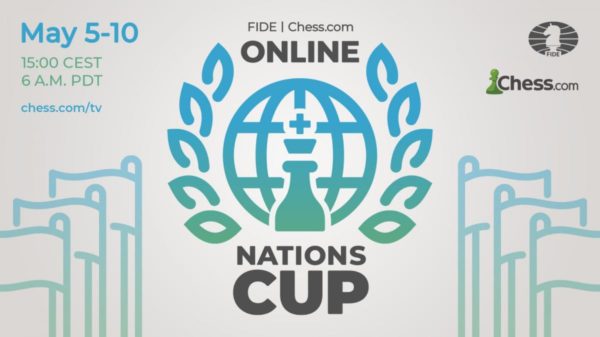 FIDE and Chess.com announce Online Nations Cup

The International Chess Federation and Chess.com announce the Online Nations Cup, a team competition held May 5-10, 2020. Six teams are due to take part in this competition: Russia, USA, Europe, China, India, plus a team representing the «Rest of the World.»
Смотрите прямую трансляцию Chess на www.twitch.tv
This epoch-making battle draws some similarities with golf's Ryder Cup, or with the 1970 «USSR vs. Rest of the World» chess match-up that made headlines in Bobby Fischer's heyday. But the new «match of the century» will be more global, entirely online, and also gender-inclusive, since the team line-ups must include at least one female player.
A retired legend, Garry Kasparov, will be the captain for the European team, while his former world championship rival, Vishwanathan Anand, will defend the first board of the Indian team.
The «REST OF THE WORLD» team :
Captain: Arkady Dvorkovich
1- Teimour Radjabov (2758)
2- Alireza Firouzja (2703)
3- Bassem Amin (2608)
4- Mariya Muzychuk (2506)
Reserve players: Jorge Cori and Dinara Saduakassova.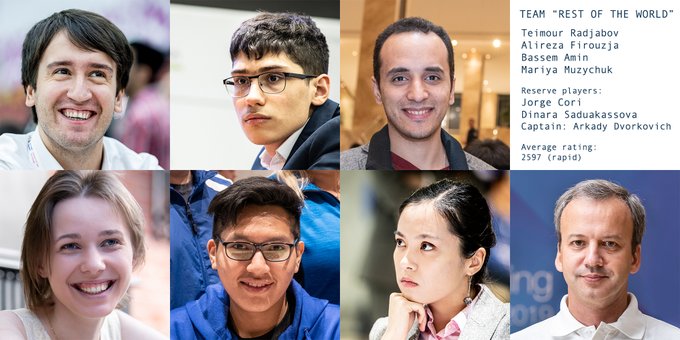 The CHINA Team :
Captain: Ye Jiangchuan
1- Ding Liren (2836)
2- Wang Hao (2750)
3- Wei Yi (2752)
4- Hou Yifan (2621)
Reserve players: Yu Yangyi (2738) and Ju Wenjun (2610)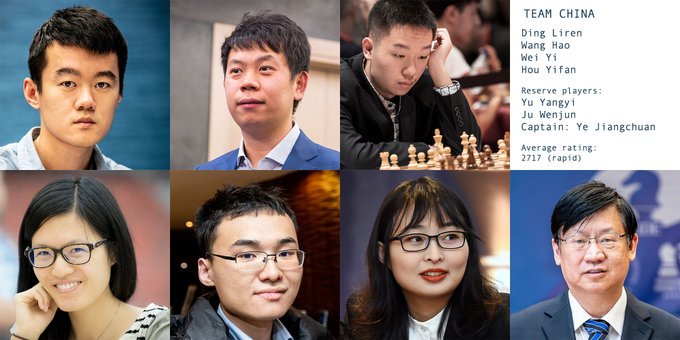 The ECU Team :
Captain: Garry Kasparov
1- Maxime Vachier-Lagrave (2860)
2- Levon Aronian (2778)
3- Anish Giri (2731)
4- Anna Muzychuk (2533)
Reserve players:
Jan-Krzysztof Duda (2774) and Nana Dzagnidze (2447)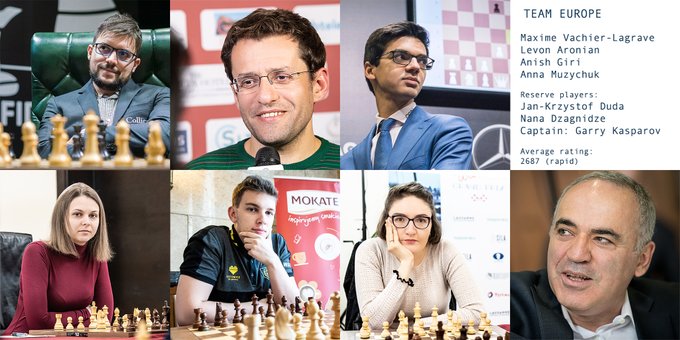 Team Russia :
Captain: Alexander Motylev
1️⃣ Ian Nepomniachtchi (2778)
2️⃣ Vladislav Artemiev (2769)
3️⃣ Sergey Karjakin (2709)
4️⃣ Aleksandra Goryachkina (2502)
Reserve players: Dmitry Andreikin (2740) & Olga Girya (2471)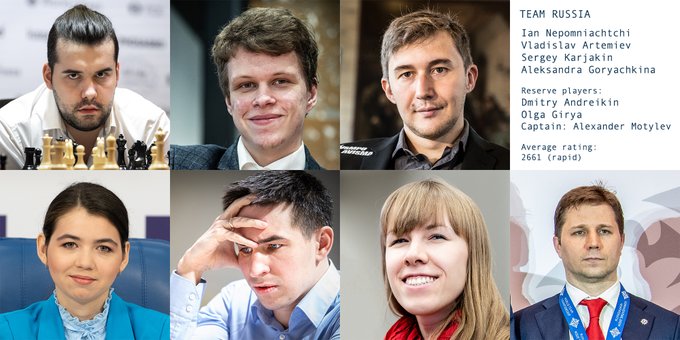 Team USA :
Captain: John Donaldson
1️⃣ Fabiano Caruana (2773)
2️⃣ Hikaru Nakamura (2829)
3️⃣ Wesley So (2741)
4️⃣ Irina Krush (2392)
Reserve players: Leinier Dominguez (2786) & Anna Zatonskih (2327)
Team India :
Team advisor: Vladimir Kramnik
1️⃣ Viswanathan Anand (2751)
2️⃣ Vidit Gujrathi (2636)
3️⃣ Pentala Harikrishna (2690)
4️⃣ Humpy Koneru (2483)
Reserve players: Adhiban Baskaran (2624) & Harika Dronavalli (2450)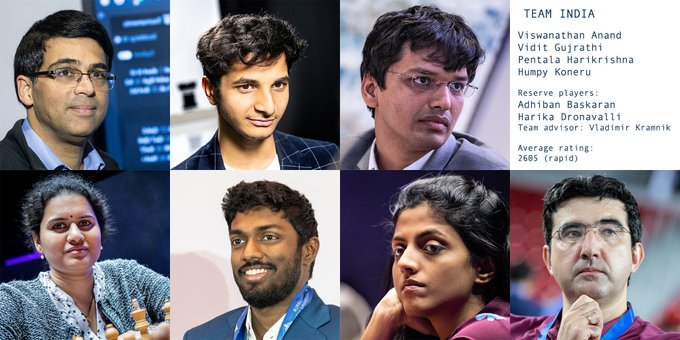 Schedule Online Nations Cup
May 5-9: Rounds 1-10
May 10: Superfinal between the two best teams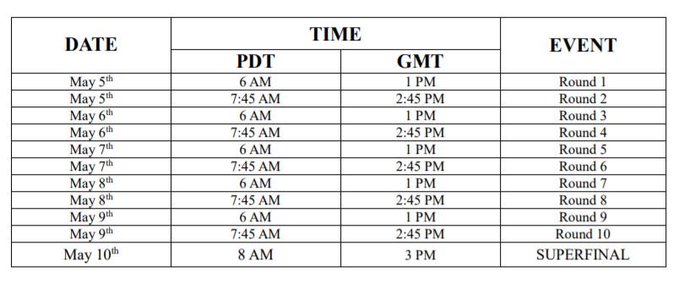 FIDE and Chess.com announce Online Nations Cup